THE ENTREPRENEUR'S GARDEN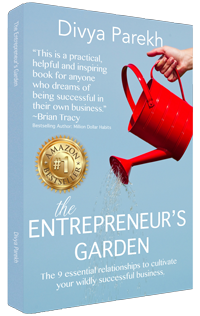 Check out Divya's new book, "THE ENTREPRENEUR'S GARDEN"
The Nine Essential Relationships To Cultivate Your Wildly Successful Business 
Divya Parekh, PCC, CPC, LL, MS
Are you there yet? I would venture to guess that the answer is no. We're all seekers of growth in our career and business; however, most of the time we pay far more attention to everyone else, depleting us of the space we need to know ourselves. The pushy voices and demanding schedules of the working world drown us in extraneous chatter and churn. Because of these incessant distractions, oftentimes, we don't ever get a chance to truly understand who we are and where we want to go.
Let's stop for a moment and reflect: What if you had the ability to clearly perceive what you truly want? What if you had the opportunity to realize your aspirations? What if you could have the confidence to step out of your comfort zone and take the next step in achieving your dream?
To fully reach your goals, the first step is looking at where you are and determining what steps you need to take to bridge the gap between you now and where you want to be. The Nine Most Powerful Relationships for Success Mindset will help bridge this gap and you create the open space needed to produce your brilliant work that both you and everyone else have been waiting for.
I was directed to Divya's blog some time ago, and although I have always been a fairly positive person, I had been kind of stuck in a rut for a while. Divya's words seemed so genuine and sincere, and I began to remind myself and co-workers throughout the days at work to ask ourselves the questions about staying balanced in the workplace…I'm not sure if I have ever crossed her path, but she crossed mine last year, and has made a very positive effect on me. Divya inspired me to be better, and I have tried to inspire those I work with to do the same. I hope to see her speak in the future sometime. So thank you, Divya, for dedicating your life to helping others.
Jaime McCloney, IT Talent Acquisition at CCIS
Divya Parekh is a remarkable person who brings great intelligence, warmth, and insight to everything she does. Divya is serious in helping her clients invest in their future where she partners on a level that gives them the space to explore, expand and focus on the critical parts that will help them achieve their goals while overcoming roadblocks. Divya works with people to find their inner leader and express it in everything they do. She creates the safe harbor so her clients can 'test the waters' while knowing the shore is close by. I would recommend Divya to everyone who is committed to understanding themselves better and devoted to making a difference in their world.
Betsy A. Haas, CEO Esteemed Human Development International, Inc.
I attended a one-day workshop Divya organized for working women and found it to be very inspiring, practical and helpful. I walked away thinking I need to start "sitting at the table" and making my opinions known. Divya is a very caring, supportive and hardworking professional. I highly recommend her.
Susan Rabideau, QA Manager at FUJIFILM Diosynth Biotechnologies, U.S.A., LLC
I have known Divya for several years and have always found her to be a true visionary. She is strategic, honorable, non-judgmental and most importantly, values-based driven.
Divya is also unwavering in her commitment to others. This has been demonstrated many times in her roles leading group-coaching calls for ICA, being the facilitator of mastermind groups for other coaches, and as a leadership coach doing one-to-one coaching sessions.  Divya helps others recognize their strengths and see past obstacles often perceived as insurmountable.
Bill Benoist, Career Coach | Leadership Coach |Team Building
Divya took me under her wing to mentor me into and through ICA certified coach training this year. After several "false starts," attempting to go through it on my own over the past several years, her enthusiasm, warmth, knowledge, guidance and dependable support have empowered me to exceed all my goals so far for the training. I recommend Divya to anyone looking to advance and accelerate his or her career.
Todd Mauney, CPC, GCC, CBC, CFI Veteran Strategic Coach, Trainer, Speaker & Author
Divya has a strong desire to help others and is willing to go above and beyond what is expected. She is an Ambassador at the International Coach Academy and helps many new students in a self-directed learning environment. Divya has coached them to create the shift from feeling overwhelmed to a place where they are ready to take charge and move forward with their studies.
As the Career Coaching Group Leader for ICA, Divya has shown leadership by facilitating group calls for current and aspiring Career Coaches from around the globe. She shows them how to "walk the talk", keep the interests of clients as the top priority, and work through any issues or questions they may have.
Kelly Smales, CPC, ACC Program Advisor at International Coach Academy
I appreciated collaborating with Divya as she brought various strengths to the table. She has strong critical thinking skills and a logical mind, which she tempers with empathy and compassion. She kept us focused and made sure that we stayed on task. She has vision, but more than this, she has the drive and intention to meet her goals. Working with Divya has been a pleasure and I am glad I had this opportunity.
Tonya Pomerantz, Certified Professional Coach with Puddle Jump Coaching
Divya is very focused and spiritual. She is competent in helping you find answers from within and help you attain your goals. When I worked with her, she always went out of her way to help ensure we were not only meeting our goals but also that I was happy and satisfied with the outcome. She always encouraged and motivated me to take a moment to pat on celebrate accomplishments; something most of us have hard time doing. Her coaching helped me find different ways to focus in challenging situations.
Sharmilee Patel, Associate Director, Customer Program Management at Fujifilm Diosynth Biotechnologies
Divya is insightful, an idea generator, and creative. She is able to synthesize information and is great at bringing concepts and themes together.  Divya is able to lead, create a vision and a path to follow. She is a very good communicator and project manager.
Allison Fisher Career Coach and Advisor, Myers Briggs Facilitator
Divya is inspiring, empowering, caring and extremely committed to the success of others. She inspired me to advance my coaching skills through a rigorous training process and has been instrumental in my having nearly completed an intense 18-month coach certification program. I'm grateful for Divya and would highly recommend working with her to advance your career path!
Todd Mauney, CPC, GCC, CBC, CFI Veteran Strategic Coach, Trainer, Speaker & Author
I met Divya during the phase in my life when I wanted to invest some time in myself to understand my strength and solidify my passion about what I value most. It was obvious that I was ready to be coached. I like her methodical approach for introspection. She asked me questions that helped me paint both an ideal and a realistic picture of my daily life, identify my core values and things that would make me happy in the long run. She was a keen observer of my mood, facial expression and body language. These qualities are so unique to Divya and part of what makes her successful as a coach.
Sathya Ganesan, PhD, RAC Manager, Regulatory Affairs at PPD
Divya is extremely dedicated to bringing out the inner leader that her clients and colleagues possess. She has a curious mindset which allows her to connect with people on a deeper level. Divya's ability to awaken sleeping giants is what makes her sought after, so having her want to work with me was flattering. As a collaborator, she's an incredible asset and generous with her wisdom.
Tajuana RossClick, #1 Best Selling Author • Keynote Speaker
Get the FREE Goal Setting and Vision Charting Article!