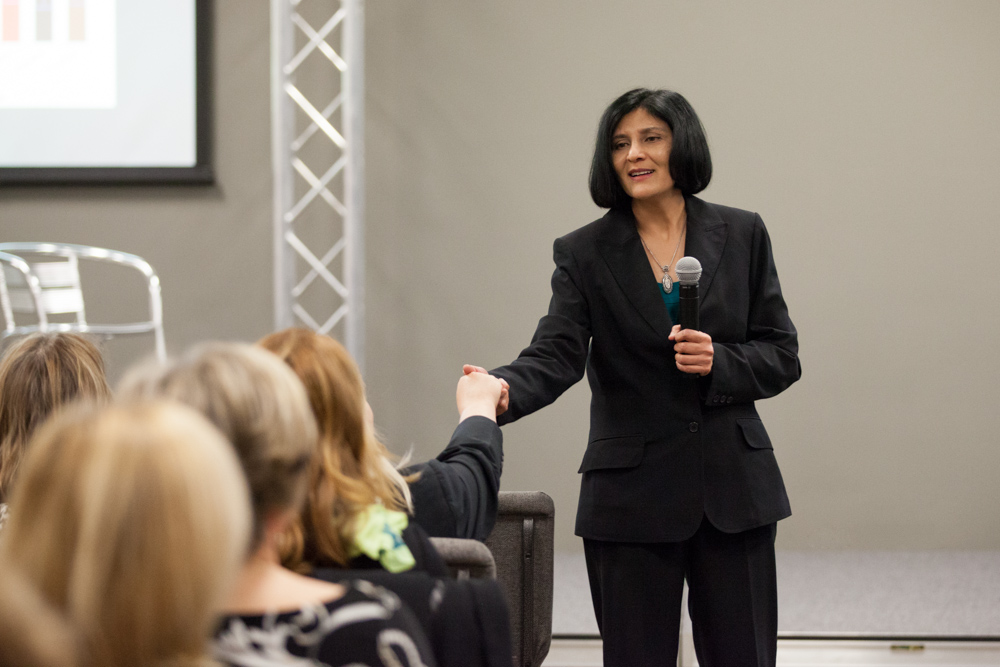 Divya's powerful presentations will be the highlight
of your event
Drawing upon her unique background and perspective, Divya motivates audiences and provides tangible takeaways focused on enhancing the leadership skills and performance of each person in the room. Incorporating lessons learned from a career successfully bootstrapping businesses in three different industries; recruiting, hiring and managing hundreds of millennials; and interviewing and chronicling many of the country's most effective leaders, Divya prepares individuals across all stages of their journey for the next step personally and professionally
For More Details Download Speakers Brochure
Leadership

Management

Sales

Entrepreneurship

Marketing

Millennials

Internships
Becoming Your Best Self

The Road to Resonant Leadership

How to Sell Big Through Small Talk

The Magic to Managing Millennials

The Secrets to Soft Selling

Leading When Times Are Tough

How to Become a Better Leader Tomorrow

Building a Winning Organizational Culture

How to Transform Customers into Brand Ambassadors

What They Don't Teach You In Business School

And many more…
Corporate Onsite

Corporate Offsite

Associations / Industry Groups

Non-Profit Organizations

Colleges / Universities

Private Groups / Private Events

High Schools / Grade Schools

Sales / Leadership / Motivational

Workshops / Trainings / Seminars
America's Top Thought Leader, Business Influencer, and International Coach

Book Divya Parekh for Your Next Speaking Engagement.
James Malinchak, Featured on ABCs Hit TV Show, "Secret Millionaire"

The World's #1 Big Money Speaker® Trainer & Coach!" Founder, www.BigMoneySpeaker.com
"Divya Parekh is a versatile international speaker and mentor. She presented at several biopharmaceutical conferences and was invited by the organizers repeatedly, always receiving great reviews. You can learn and grow to the next level with Divya. If you want stellar success in accelerating your personal, professional and financial goals, you've got to work with Divya!"
Becky McCuen, Senior Quality Manager
Argo therapeutics
"Divya Parekh, one of our professional speakers, has provided leadership presentations, that includes topics such as: Diversity, Communication Across Generations, The Art of Appreciative Leadership, Stress Management, Communication;  to numerous corporate clients. Our clients enjoy having her speak to their employees year after year. Divya easily connects with the audience. She makes a difficult topic easy to understand and gets her audience excited. Her energy is contagious.  Not only does she receive very positive feedback from the attendees, they also learned practical and professional tips they can use immediately."
Betsy A. Haas, CEO Esteemed Human Development International, Inc.
"Divya Parekh is a remarkable person who brings great intelligence, warmth, and insight to everything she does. Divya is serious in helping her clients invest in their future where she partners on a level that gives them the space to explore, expand and focus on the critical parts that will help them achieve their goals while overcoming roadblocks. Divya works with people to find their inner leader and express it in everything they do. She creates the safe harbor so her clients can 'test the waters' while knowing the shore is close by. I would recommend Divya to everyone who is committed to understanding themselves better and devoted to making a difference in their world."
Dr. Karen Keller, Author Keller Influence Indicator® 
www.Karen-Keller.com
"Divya spoke as our keynote speaker at the NAFE NC Network Meeting in 2015.  Divya inspired the audience to discover and understand their hidden motivators.  Attendees walked away with action items that they can implement right away and were given a 1:1:1 challenge to fulfill."
Michelle Rogers, Executive Director
 National Association for Female Executives North Carolina
"While speaking with our Students and Young Professionals, Divya inspired the audience to action.  Attendees commented that her speech really resonated with them and they walked away with tips they could immediately apply at work."
Marisol Patino, Student Affairs Committee Chair
International Society for Pharmaceutical Engineers –CASA Life Sciences Technology Conference – ISPE Carolina South Atlantic Chapter
"Divya Parekh kept our group engaged throughout her inspiring presentation. Her in-depth knowledge and personal stories elevated our thinking about business to a higher level and gave us tools for continuous personal growth and success.  I am delighted to have discovered Divya and look forward to working with her in the future."
Mary Ann Bella, Freelance Writer/Producer
 – Organizer, Independent Communicators Alliance Group
"Thank you for your fantastic presentation, you more than lived up to your promise. It is rare to find a speaker who can effectively blend a positive message with humor and real life examples. You really captivated our audience with your style, enthusiasm and unique ideas for using mindfulness as a success tool."
Kathryn Roberts Founder of Purpose ~ Passion ~ Prosperity
"Divya's presentation was helpful and enlightening. Can't wait to look for her books to learn more! Thanks!" – Jill Lycan, Cary NC
"Very insightful presentation, balancing "doing mode" and "being mode" is a priority for me. Also enjoyed hearing about biases and "should". Thank you so much for sharing!"- Nancy Terry, Cary NC
"The presentation covered interesting information that is also helpful and practical for daily life. Divya, you were very enthusiastic and passionate about the subject, and helping others find ways to practice mindfulness and use it as a tool to facilitate success." – Beth Worek, Owner/Coach, Cary NC,
"The Mindfulness Presentation was very good and very informative. Divya explained it so well. It was done very professionally. Divya is a very warm and enthusiastic person. Whatever she does, she does it with passion. She is very optimistic in whole approach to life."- Aruna Shah, Coach, Cary NC
"I gained so many new ideas and insights from Divya's presentation. I can't wait to implement the practices and learn more from her webinar program."- Kathryn Roberts, Business Mentor, Wake Forest, NC
"I found the presentation inspiring. I had a couple of "Ah-ha!" moments, which I intend to move forward on. Good humor."- Vi S., Durham, NC
"I enjoyed Divya's excellent presentation on mindfulness. She gave a wonderful introduction to key mindfulness concepts with material that can be easily accessed, remembered and utilized. Thank you!" R. Ford, Raleigh, NC
"An elevator speech in 15 minutes? Impossible, you might say! Not so! Divya sat down with me and absolutely transformed my self-introduction. I was stuck, stuck, stuck! In such a short time, I had my direction. I am now excited, confident, and ready to meet my new clients! The light bulb is now burning brightly!"- Connie Killebrew, CEOof CK Productivity, Newbern, NC